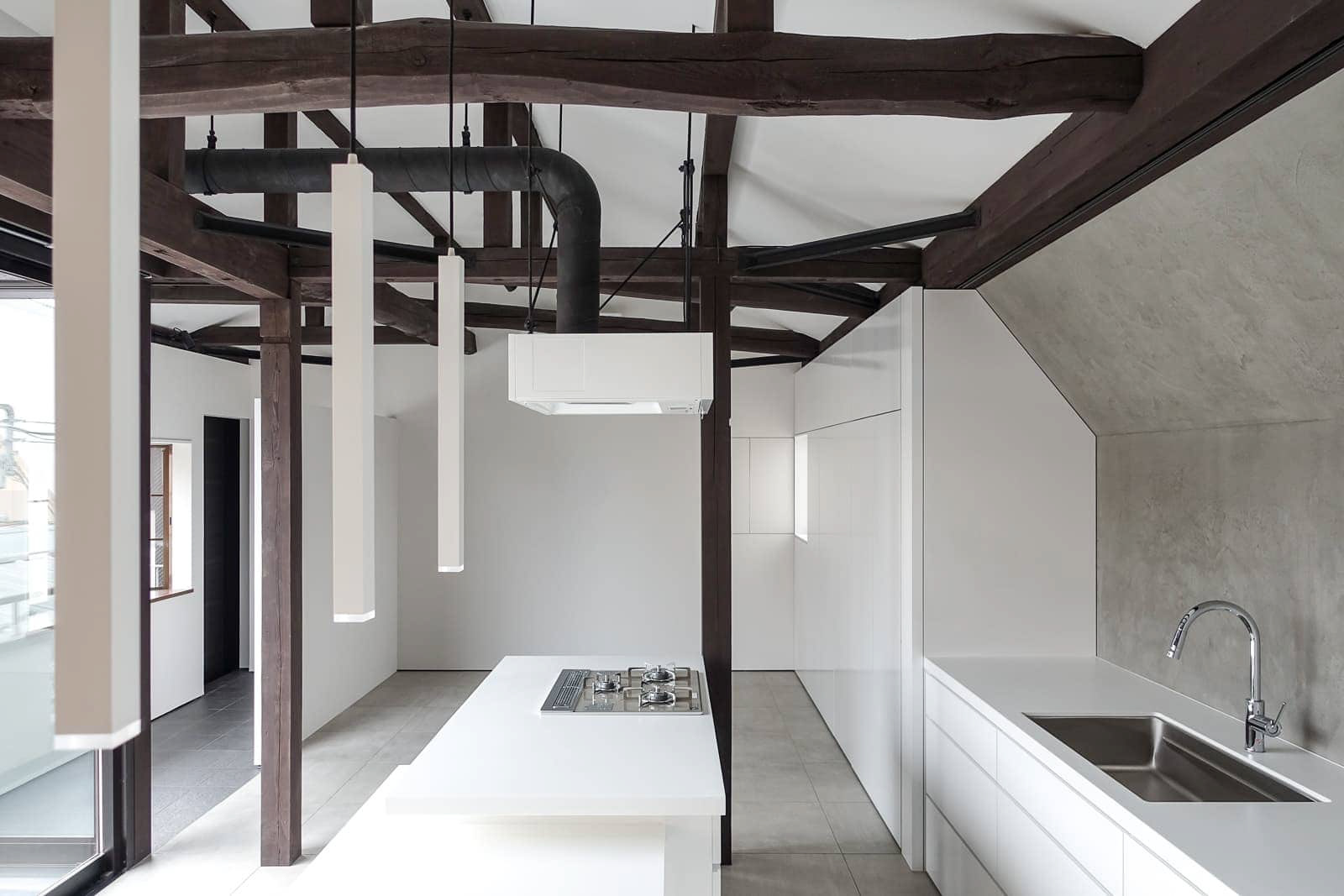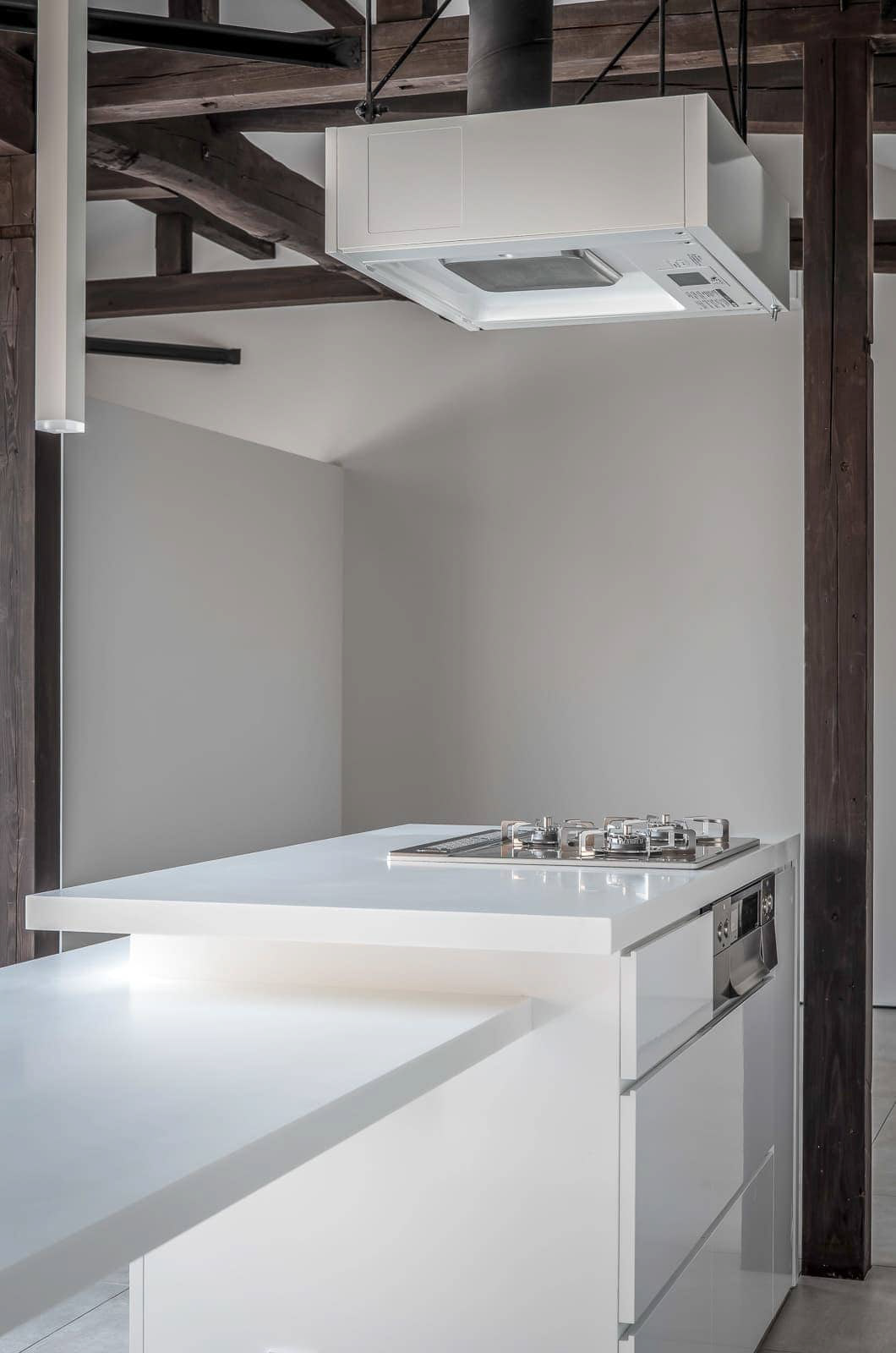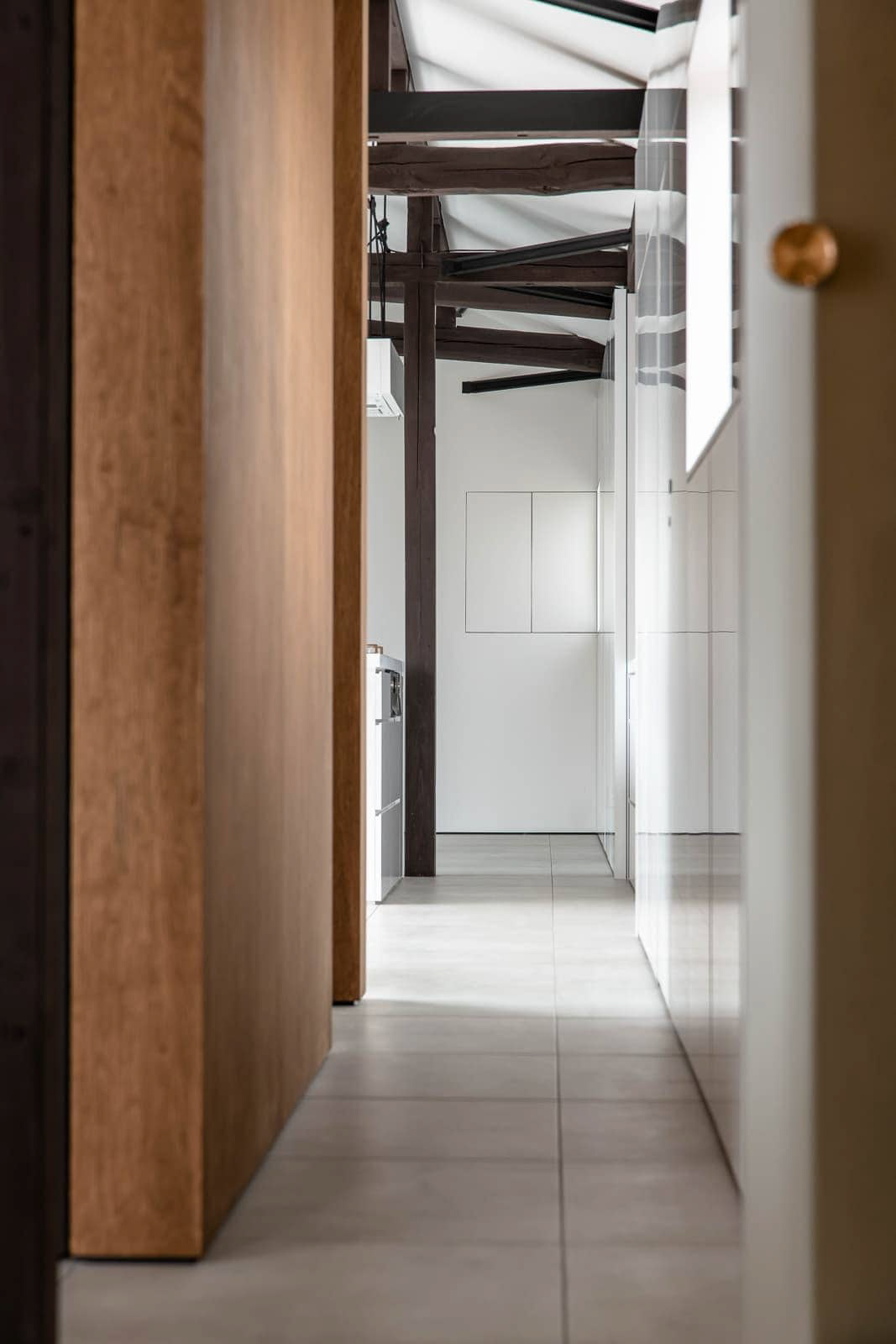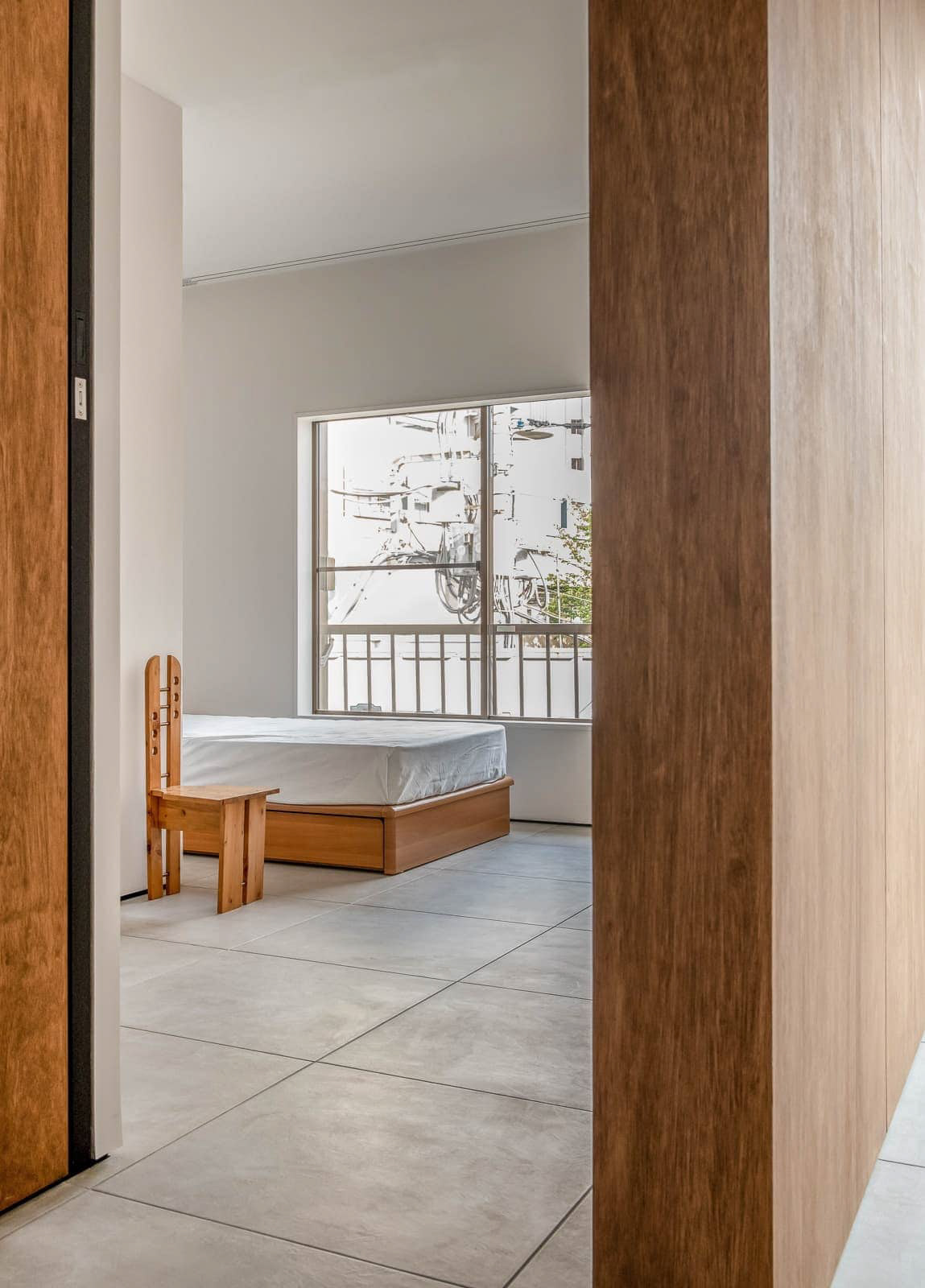 T

he renovation takes place within a traditional wooden house built on top of a concrete retail base located in central Tokyo. The owners of the building, living on the second floor, requested an independent livable space on their third floor. Prior to the renovation, the third floor was mainly used as storage space, only accessible via two internal staircases from the second floor. The proposal provides a solution diametral to this existing situation, transforming the third floor from an array of small rooms into a series of orchestrated open spaces that breathe, allowing natural light to flow in, and enabling unobstructed movement throughout the project.
A new stark black external staircase, constructed of steel, leads the way to the third-floor renovation. Here, a layer of concrete tiles floods the interior and forms the visual base to the wooden structural elements, uniting the open-plan living room, dining room, and kitchen. The exposed roof structure and columns are carefully preserved to create a contrast between the old and the new. This contrast results in a dialogue between Japanese vernacular dwelling (the old) and modern architectural elements (the new).
The introduction of a teak cuboid amidst the overall monochrome palette furnishes the apartment with a warm and tranquil character. This cuboid is tangible throughout the project and houses a bedroom with an adjacent master bedroom and bathroom connected by sliding doors. These doors, located at a cross-point, provide a way to transform the space sequence between the master bedroom, bathroom, and living area according to their individual position. When partially closed they create privacy where needed; i.e., an en-suite for the master bedroom by blocking off the living area, but when fully opened the configuration accommodates a social family lifestyle throughout the project with a large kitchen as the central element.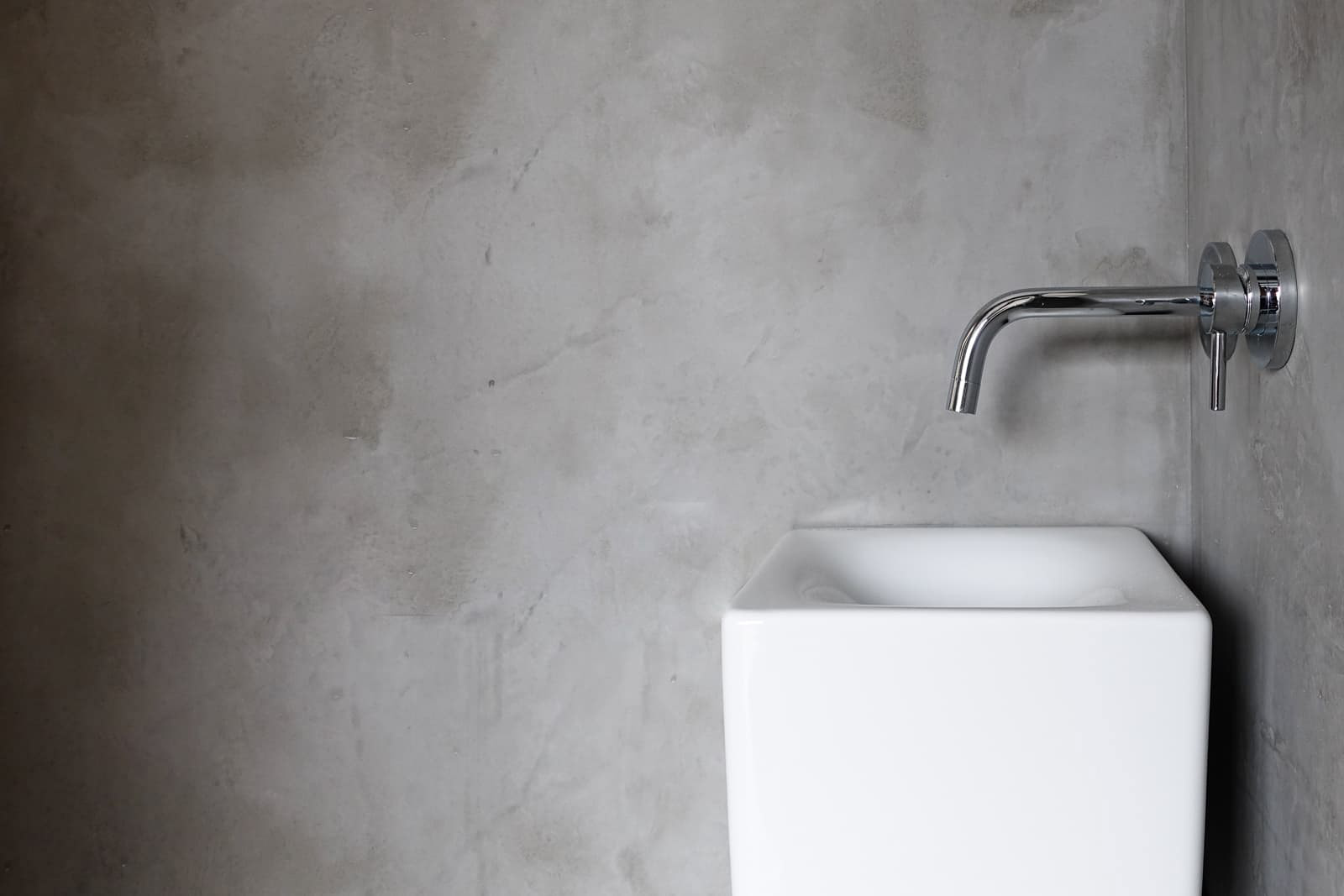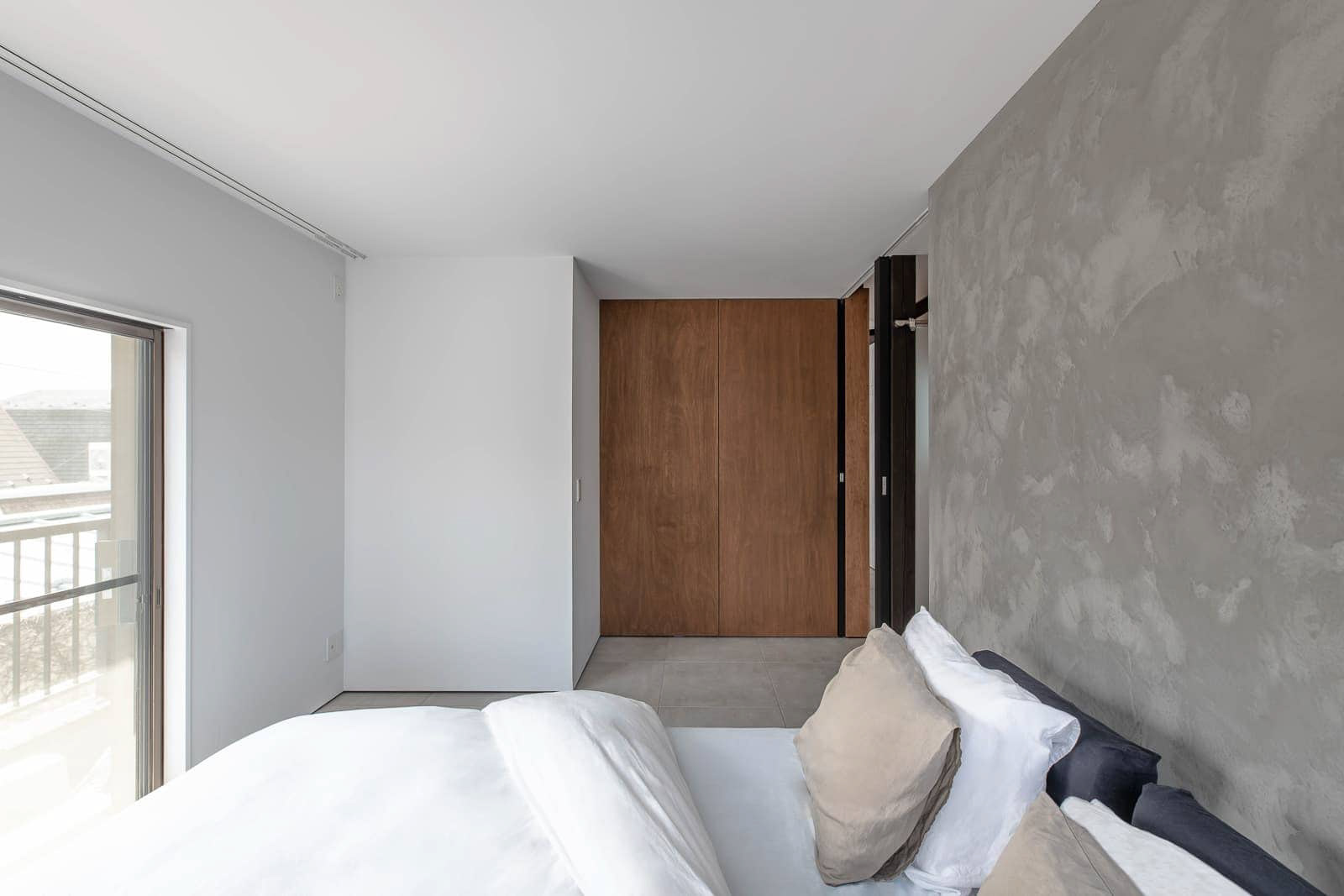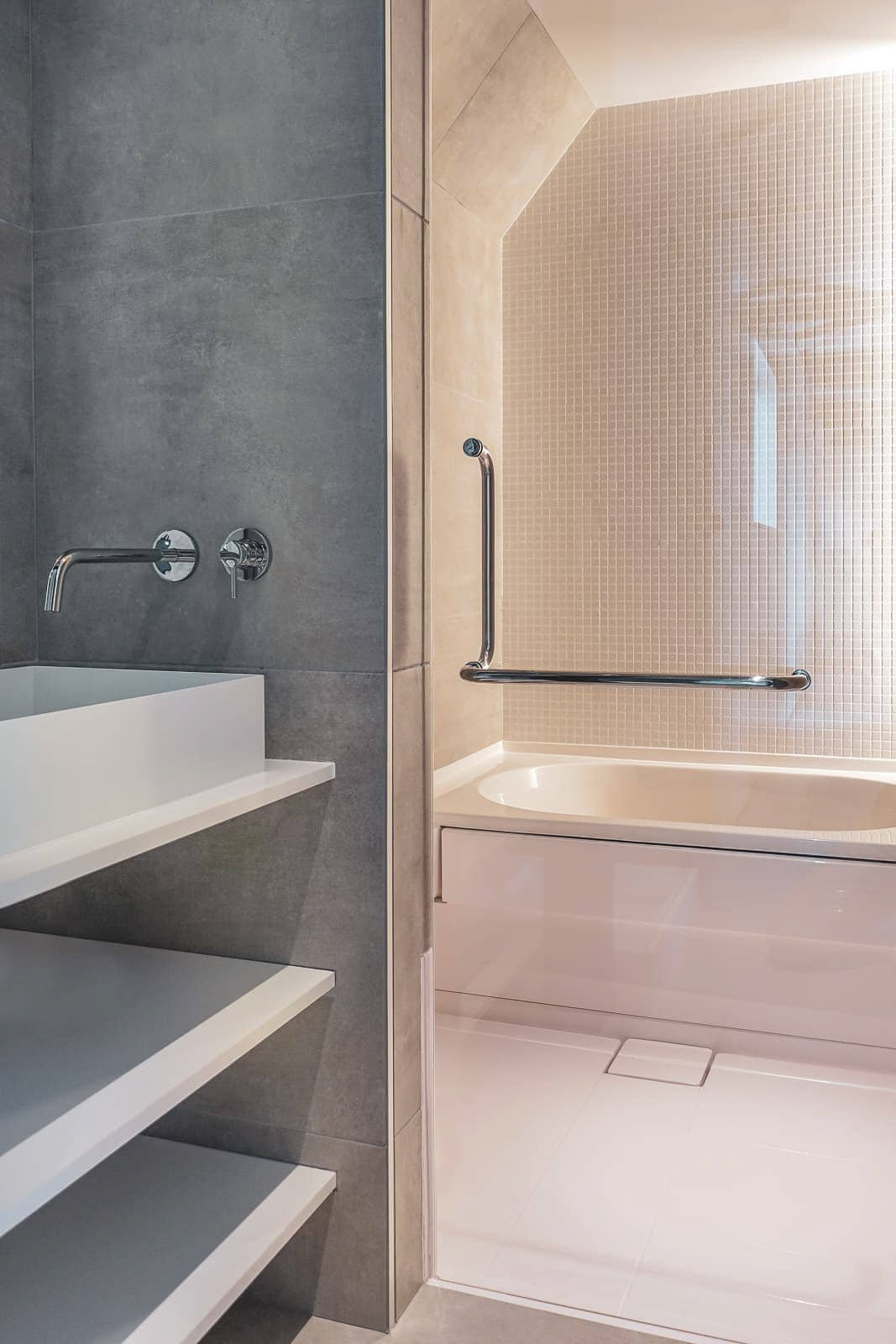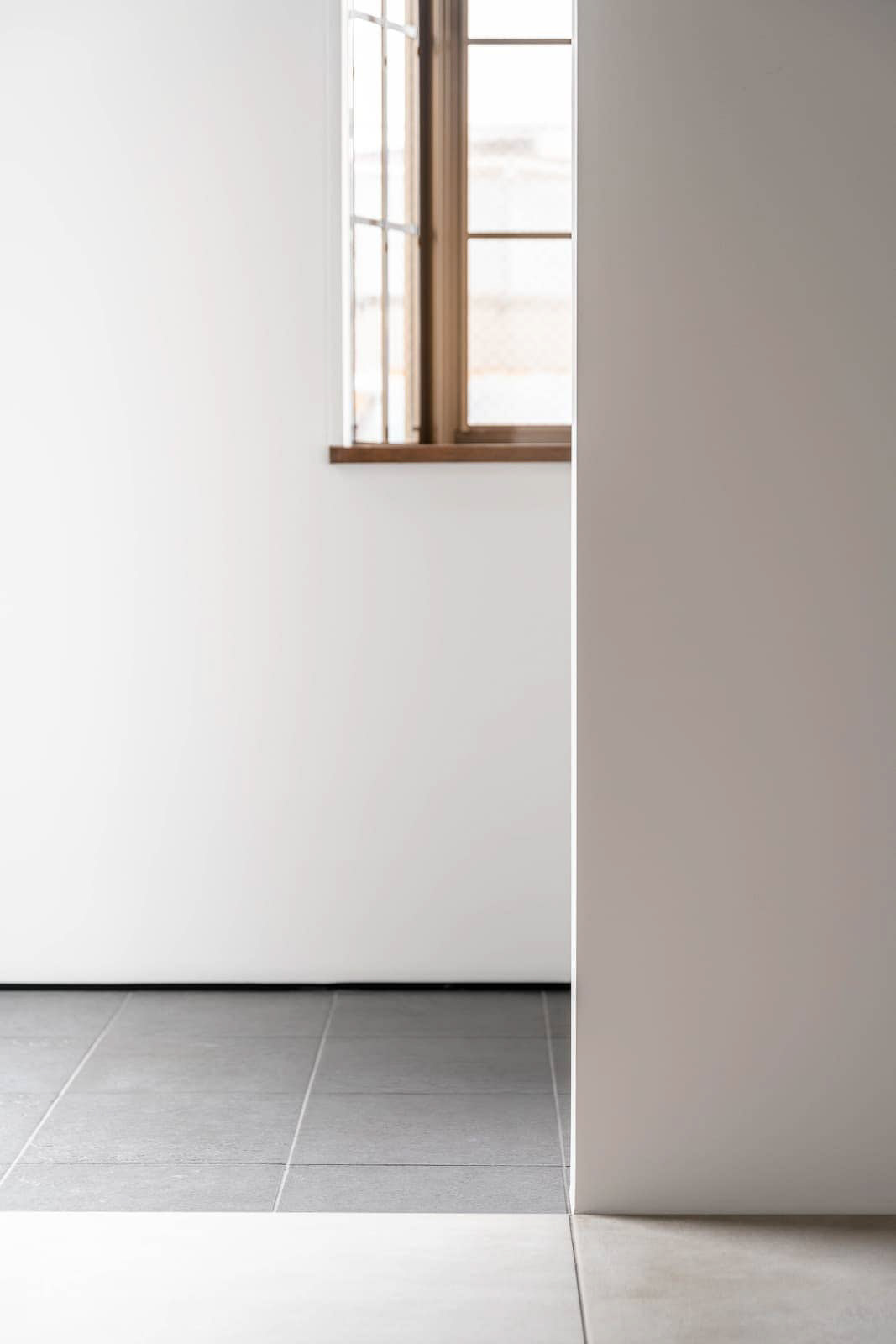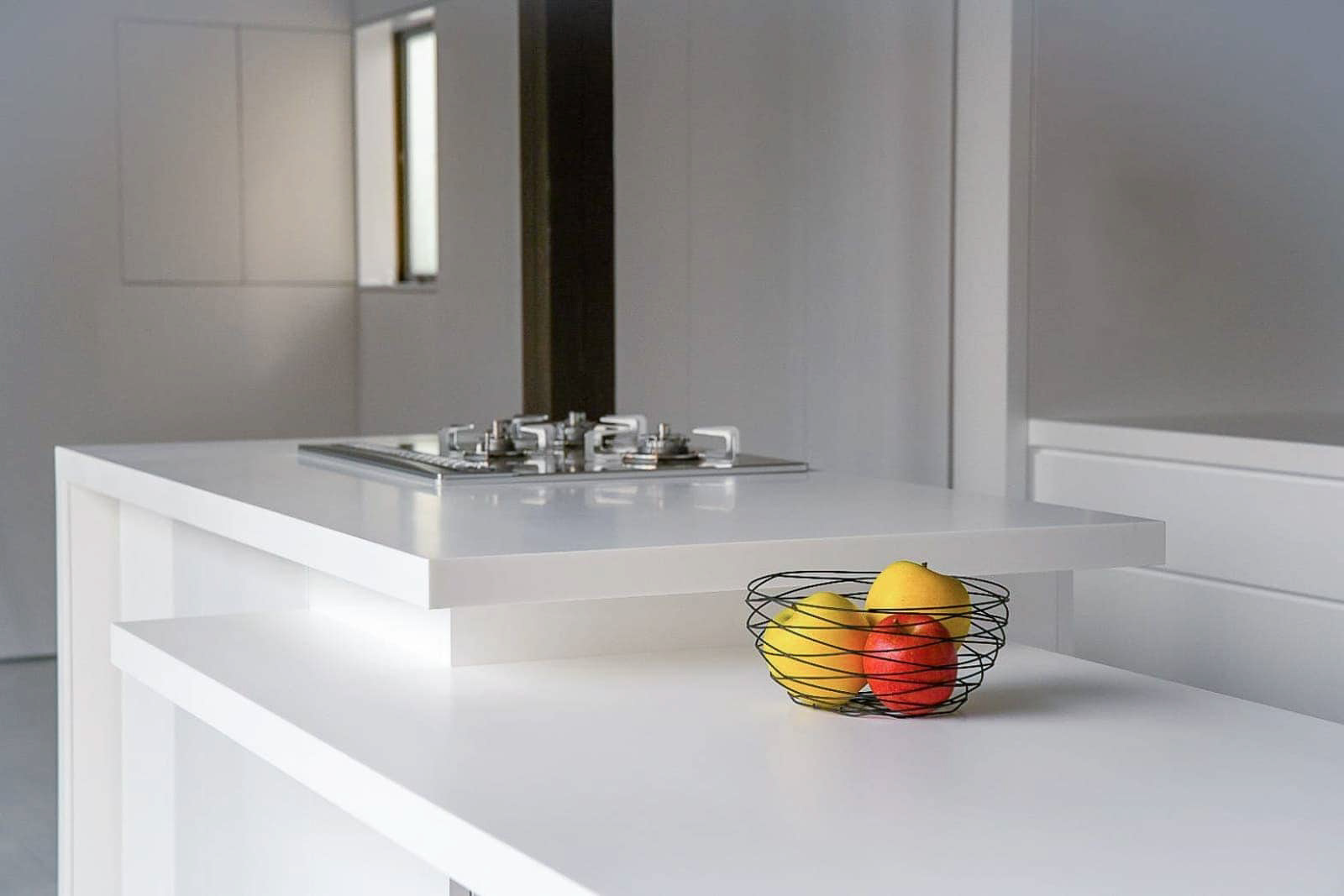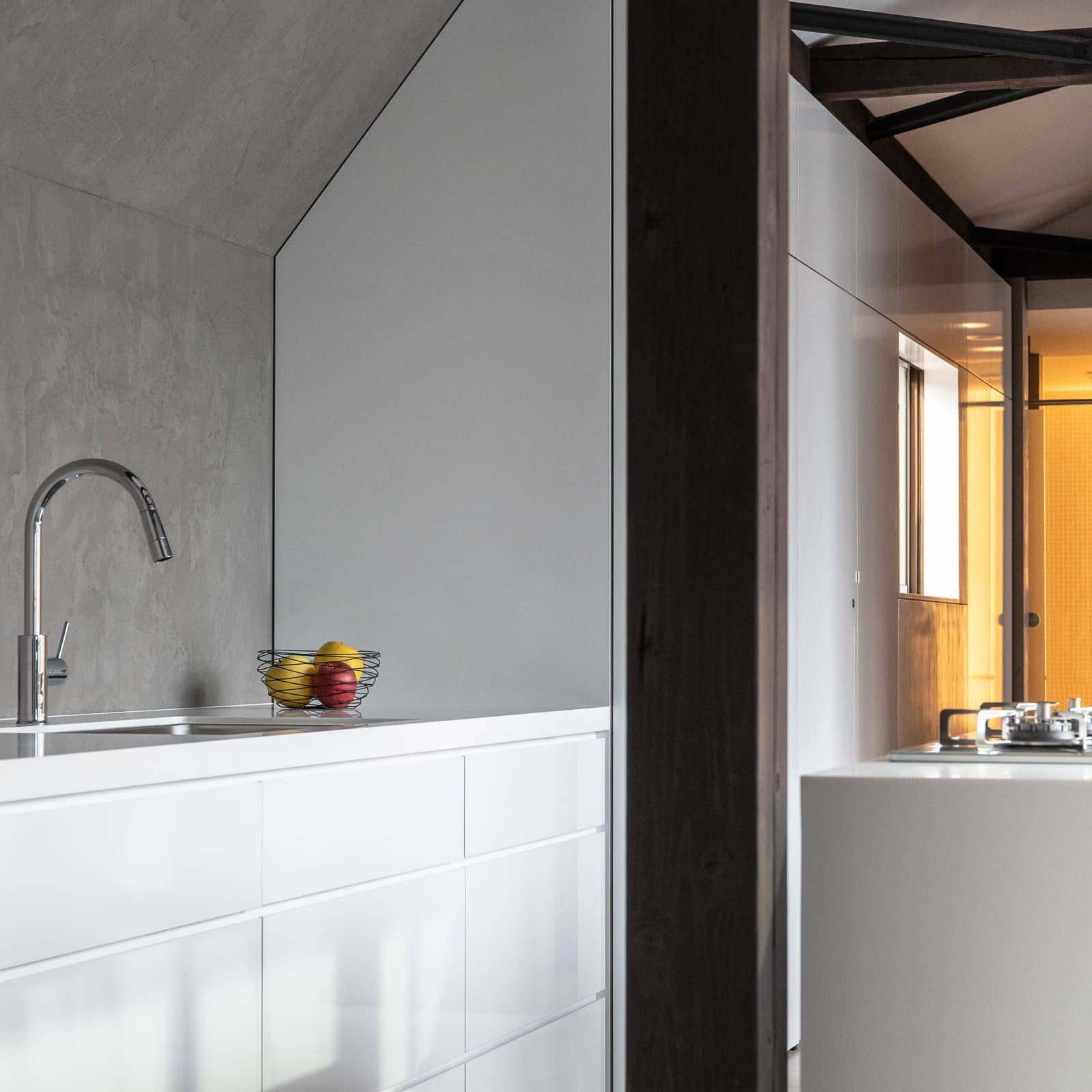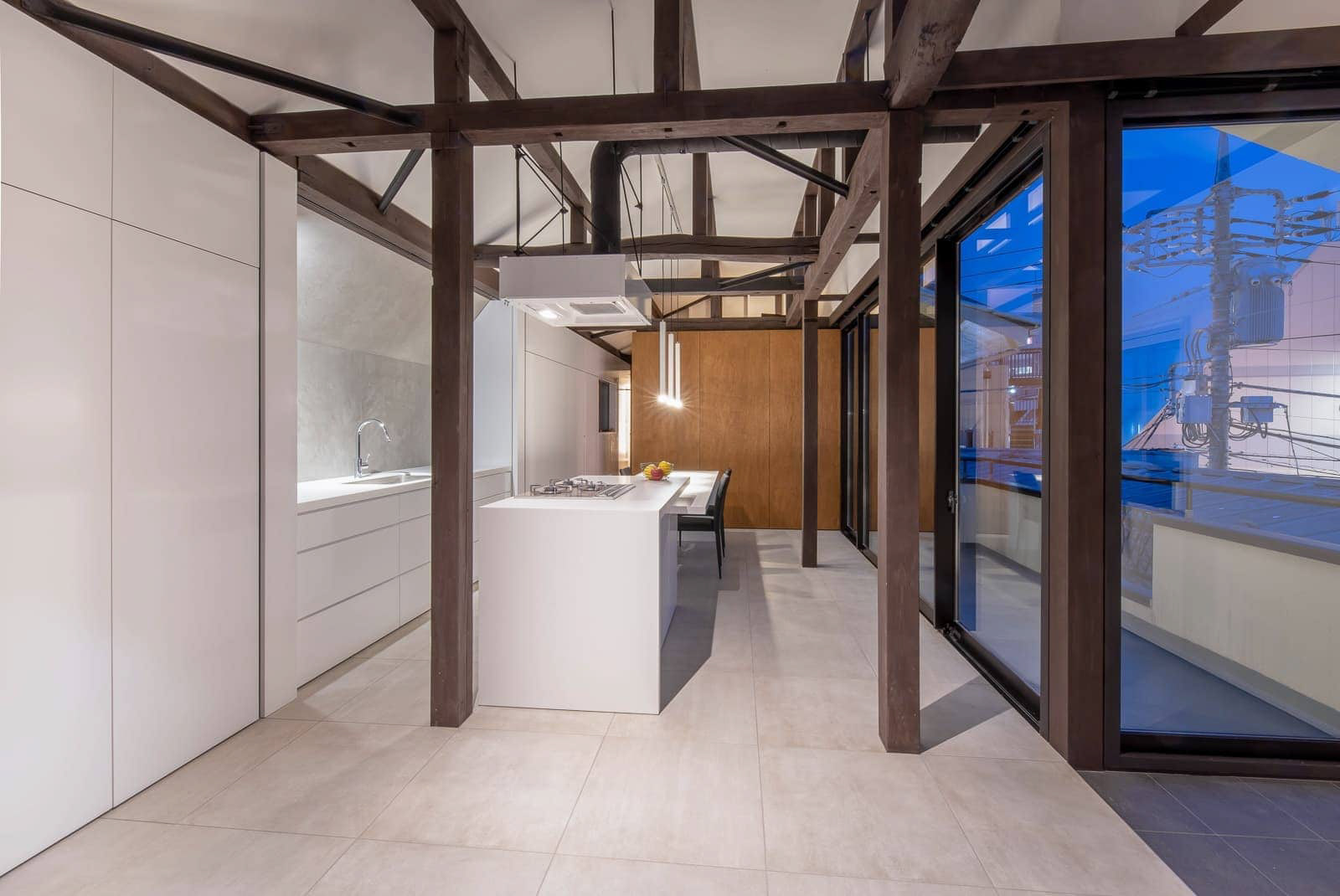 Despite being located on one of the liveliest and oldest streets in the area, this minimalist style apartment breathes a modern and quiet atmosphere that is characterized by the spaciousness of its open approach. A feeling of freedom and brightness is introduced deep into the apartment by a large south-facing
window, providing views towards the local shopping street and surrounding roofscape.
The use of light tones, together with the orthogonal lines of the furniture, delivers clarity and brightness; a consistent design language that is applied throughout the home and is counterbalanced by the shades of black and dark brown of the wooden structure and window frames. This interplay of architectural elements reflects the beauty and simplicity of the initial design concept, only made possible through a combination of meticulous attention to design details, the unwavering commitment of the client, and seasoned craftsmanship of the contractor's team
​​​​​​​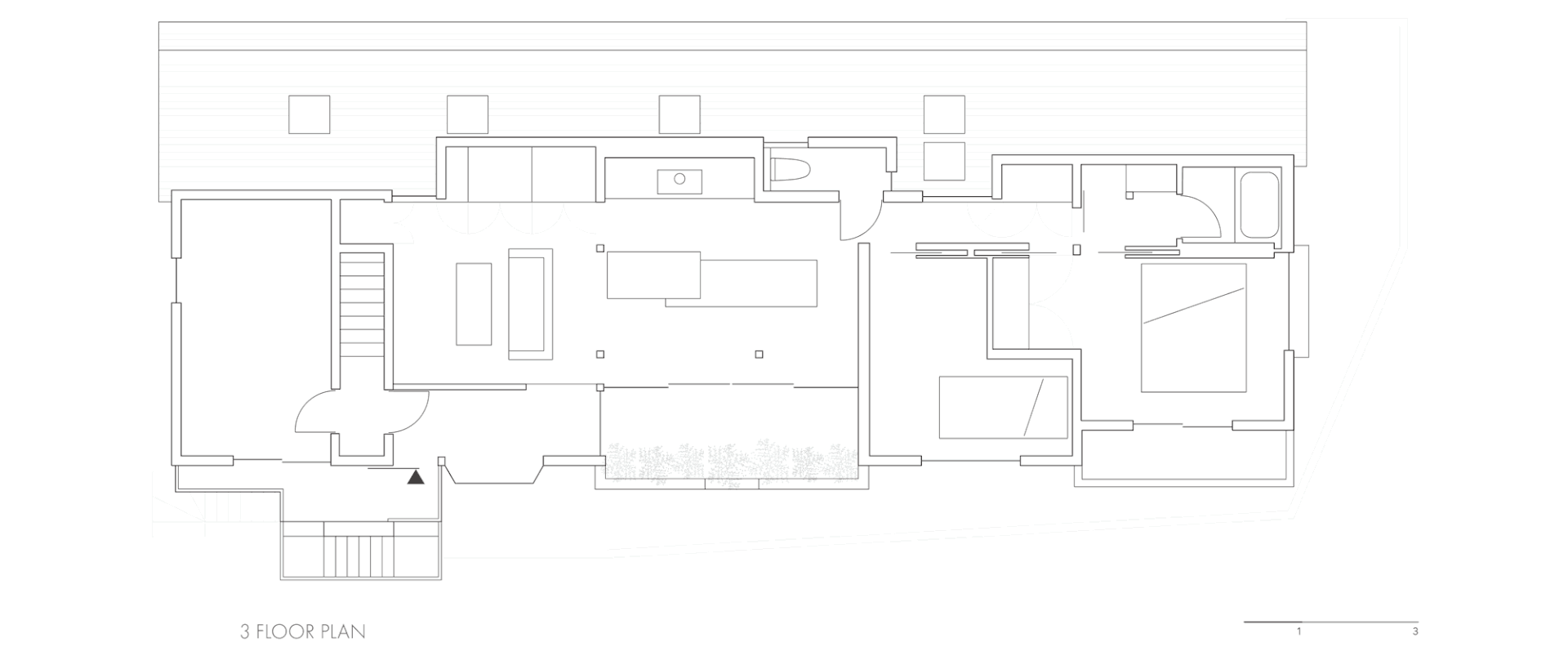 location
                within 23-wards, tokyo, japan
program 
              residential
area                     
78,6 sqm
status
                    completed (2019)
client                     
fam. kobayashi
architect     
          leroy merks
contractor      
       fujii construction
photographs       
  nicola maniero